Dolmen Quarry
Tuff with developed stratification
The rock used in dolmen was tuff and andesite of sedimentary rock type. The rocks at Daesin-ri and Hyosan-ri in Hwasun with dolmens were tuff and andesite well-developed stratification and fluxion structure, and joints developed at tuff observed at quarry at Daesin-ri, Chunyang had almost parallel or low angle slope. Andesite has remarkably developed pillar-shaped joints and some tilt angle of vertical or over 70°. This rock was cut as capstone of dolmen of large rectangular shape.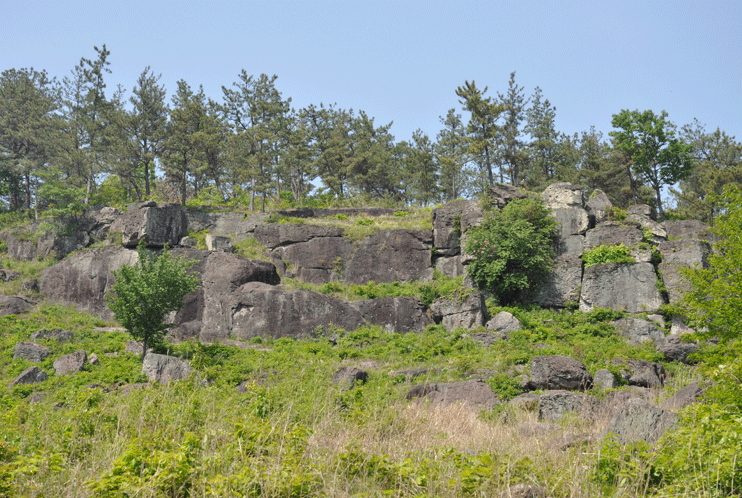 Madangbawi Quarry
Madangbawi quarry was named after its shape like wide yard and used for building Hwasun dolmen. Tuff rocks with developed joints along the mountainside with dolmens distributed were exposed. These rocks have natural geographical conditions to quarry capstones of dolmen.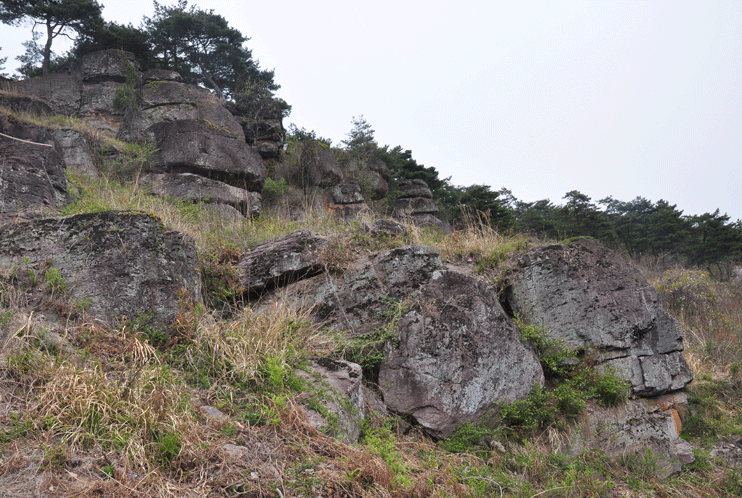 Gwancheongbawi Quarry
Gwancheongbawi quarry stretches away like a wall on the southern breast of the Mt. Geonji. Many rocks were scattered around it and used for making capstones of dolmen. According to a legend, "one day, when Boseong governor passed by here to visit Naju and took a rest here, a man made a petition and he solved it immediately. And then it was named Gwancheongbawi(government office rock)."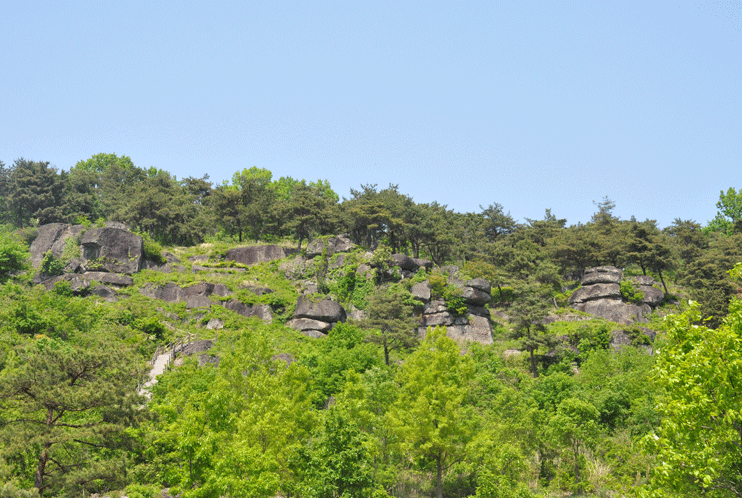 Gamtaebawi Quarry
Gamtaebawi quarry was named after the look of the man wearing gat (Korean traditional hat made of bamboo and horsehair). There were trace of digging a hole to quarry capstones and putting them beside the rock. Bronze age relics such as spindle and plain earthenware and earthenware and potteries from the Three Kingdoms, Goryeo and the Joseon era were discovered in front of the Gamtaebawi.